Celebrating Strength and Resilience of Refugee Mothers & Interfaith Ramadan Iftar Dinner
May 13, 2019 @ 7:00 pm

-

9:00 pm

Free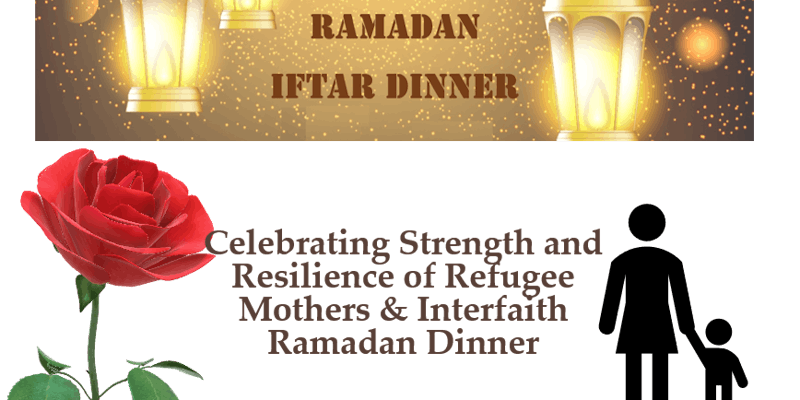 Celebrate The Strength And Resilience Of Refugee Mothers
You are cordially invited to join us on May 13, at 7:00 pm in celebrating refugee mothers. Program starts with Live Sufi Music and traditional art demonstration. Speakers will share real life stories, followed by an Interfaith Ramadan Dinner at 8:30 pm.
Michelle Rumbaut from the Interfaith Welcome Coalition will share the unique journey of the refugee mothers she has come to know at the bus station. A Raindrop representative will also share stories of mothers who have been forced to flee because of persecution.
This event is free and open to public, but registration is required
Venue: Raindrop Foundation San Antonio
Adress: 4337 Vance Jackson Rd Ste#203, San Antonio, TX 78230
When: May 13, Monday, 7:00-9:00 pm
Ramadan is the holiest month in Islam during which Muslims fast from dawn to sunset. During this time,
Muslims refrain from eating and drinking (including water). The fast is broken with a dinner called "iftar"
where family, friends and neighbors gather. One important aspect of Ramadan is charity and sharing. To practice this aspect, Raindrop Foundation is organizing Food & Fund Drive for San Antonio Food Bank.
You are encouraged to bring non-perishable food items as well as fund while coming to iftar dinner.
You can also donate online using the following link:
We would be honored if you join us on this special occasion to break bread together.
Phone: (210) 377-1110
Contact: sanantonio@turkishhouse.org