"Fired Up! Ready to Go!"- Meet Social Justice Change Agents Making Wins in SA & Beyond
January 17, 2019 @ 5:30 pm

-

8:30 pm

Free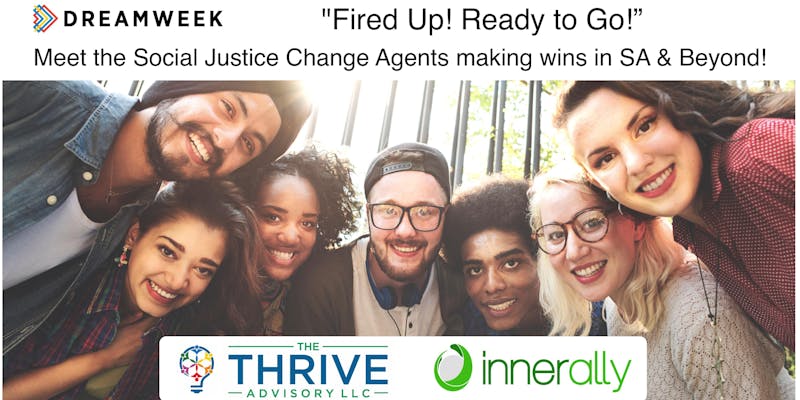 Meet the New Wave of San Antonio Social Justice Change Agents!
Lupita Gonzalez – The Thrive Advisory
5:30 – 6:50pm
San Antonio has been making headlines as being "top in the nation" for a list of things: fastest growing city about to become 1.5 million in population, top in the nation for highest income inequality, and second highest poverty rate of 25 largest cities in the nation. Inequitable educational opportunities in its public schools (including higher education institutions), historic redlining compounded by rapidly increasing urban displacement/homelessness, demolition or commodification of cultural landmarks, local taxes supporting apartheid in other countries, police racial bias lacking accountability, LGBTQIA discrimination, growing pollution and natural resource politics are indicators of mounting oppressive forces.
This session will be a moderated discussion by representatives of new wave social justice activists agitating for change and making very big waves in San Antonio and beyond! They have been effective in advocating for their causes by harnessing internal and external pressures. This exhilarating panel discussion invites us to hear these successful social justice change agents' stories, join in "policy wins" celebrations, and learn effective strategies for change. Be ready to engage with them. Bring your questions!
Guest panelists include:
DeeDee Belmares – Moms' Clean Air Force, Former Co-Chair of Community Alliance for A United SA (CAUSA)
Lindsy Gholson – SATX4
Moureen Kaki – Students for Justice in Palestine
Sonja L. Lanehart, PhD -Professor and Endowed Chair of Literature and the Humanities, UTSA Black Faculty and Staff Association
Ashley Smith – LGBTQ Activist
Stay Fired Up! Be a Resilient Change Maker
Cynthia Phelps, PhD – InnerAlly
7:05 – 8:30pm
Advocating for a more equitable and enlightened society is powerful and important work. But what do you do when it all becomes overwhelming? In this session we will explore the risk factors for burnout and give some research-based techniques to help you build your own resilience, so that you can continue to serve and thrive. Give yourself this gift!