The Sultan and The Saint: An Interfaith Gathering
October 24, 2019 @ 6:00 pm

-

9:00 pm

Free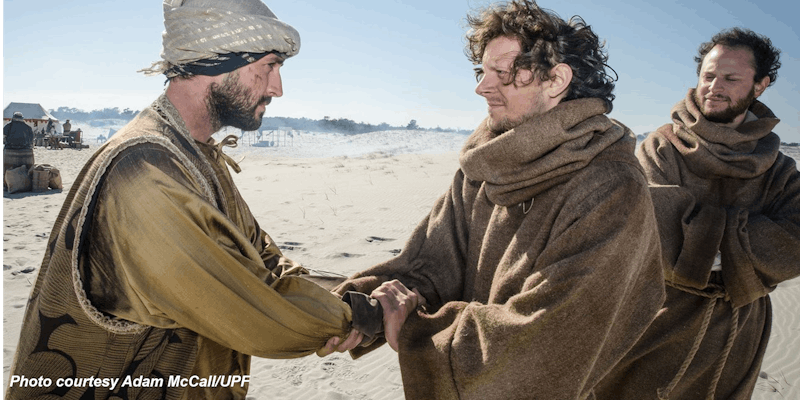 An interfaith gathering to view Emmy® Award nominated PBS documentary, The Sultan and The Saint followed by a meal and table conversations
WHAT IMPACT CAN AN ENCOUNTER MAKE?
In 1219 during the raging conflict of the Crusades, the Muslim Sultan Malek al-Kamil and the Christian Francis of Assisi courageously entered into dialogue paving a path that eventually led to ending the Crusades. Their example is an invitation to join in respectful dialogue with people of different faiths and cultures.
2019 is the 800th anniversary of this encounter. Earlier this year to commemorate this historic event, His Holiness Pope Francis and The Grand Imam of Al-Azhar Ahmad Al-Tayyeb met. The resulting Document on Human Fraternity for World Peace and Living Together acts as a guide and calls on all people who have faith in God and humanity to unite and work together.
Join us October 24, 2019, 6pm at St. Francis of Assisi Catholic Church, 4201 De Zavala Rd., San Antonio, TX
YOU are invited to
View the documentary The Sultan and The Saint
https://www.sultanandthesaintfilm.com/about-the-film/
Engage in dialogue with Muslims, Jews and Christians in an interfaith setting
Recognize the importance of the role of religions in the construction of world peace
Commit ourselves to promoting peace, justice, goodness, human fraternity and coexistence
Explore the Document of the Fraternity of Humanity for World Peace and Living Together
http://w2.vatican.va/content/francesco/en/travels/2019/outside/documents/papa-francesco_20190204_documento-fratellanza-umana.html
Presented in friendship, respect and understanding by
St. Francis of Assisi Catholic Church, the University of the Incarnate Word Ettling Center, and Raindrop Foundation San Antonio
Cost: Free and open to the public. Space is limited, a ticket is required
Donations to offset costs for the evening are appreciated.
Contact Email: sultanandsaint800years@gmail.com