Mission-Driven Development Summit
November 13, 2019 @ 9:00 am

-

11:30 am

Free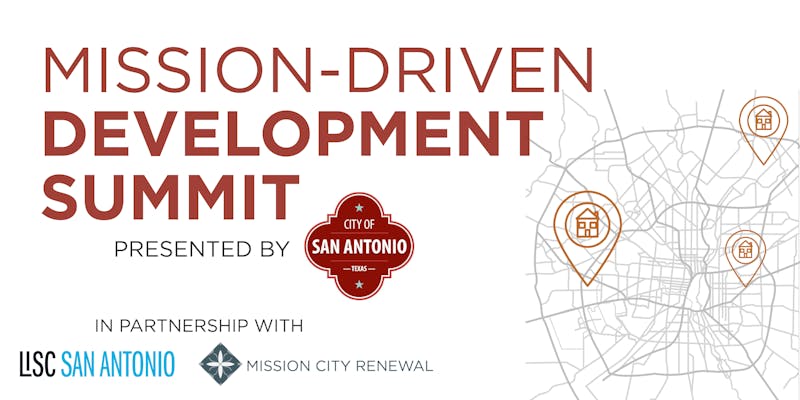 THE OPPORTUNITY
Just over 3,000 acres of congregation property are underutilized in San Antonio, when instead, they could be activated to provide opportunities and meet needs in our community. Many congregations and mission-driven organizations across the country are realizing this and taking steps to make the most of their property for affordable housing and other community benefit projects. If one acre of creatively-used church property could improve the lives of 100s of local families a year, imagine how many families can be served with all of our unlocked potential. For many churches, it is not a matter of willingness, but a matter of capacity — having the resources and expertise to deliver such a vision. This is where we can help.
VISION SUMMIT: YOU'RE INVITED
Faith-leaders and mission-minded development professionals are invited to join us on November 13th for a Mission-Driven Development Seminar which will focus on:
Inspiration: Case Studies highlighting examples from San Antonio and around the country of creative uses of church real-estate assets that have been activated for the good of their communities.
Resources: An overview of the process of redevelopment and congregations who have already walked through it — Equipping you with knowledge about tools and resources available to guide you through this process.
Next Steps: Finally, we'll invite you into an evaluation process to gauge your congregation's readiness to move towards an actionable project.
Whether this is a new concept or you are actively developing a project, we want to meet you, understand your vision for your property and community, and help you design a path forward.
_______________________
The City of San Antonio Mission-Driven Development Summit is hosted as a collaboration between the City of San Antonio Neighborhood & Housing Services Department, Good Acres Project of Mission City Renewal, and Local Initiative Support Corporation.
*Parking will be available in the Houston Street garageTravis